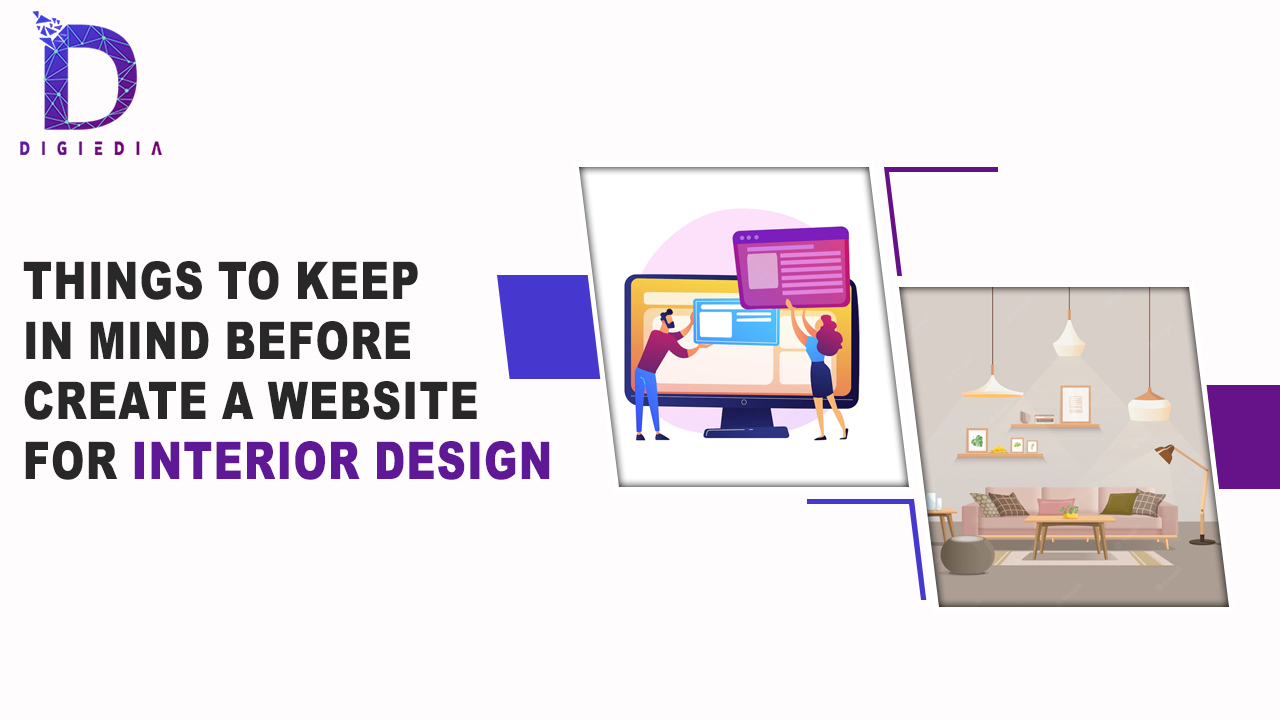 Things to keep in mind before creating a website for interior design
You should already be aware of the relevance of aesthetics and practicality as an interior designer. Your office and living areas are both beautiful and functional, and your interior design website is no exception.
Customers see your website as an extension of your company.
If your website is attractive, motivating, and professional, it can help to promote your business. It's a red flag if it's confusing and unattractive.
An excellent website communicates to clients that you are competent, detail-oriented, and have fantastic style. It takes time to plan a website for interior designers, but the effort can pay off in the form of new sales leads. Let's look into things to keep in mind before creating a website for interior design:
Things to keep in mind before creating a website for interior design
Plan Your Content
The first step in creating a website for your interior design firm is deciding what content you want to include.
To put it another way, what pages do you wish to have on your website? To begin, you'll need the essentials, such as a home page, an about page, and possibly a few links to your current social network profiles.
You'll also need content to persuade potential consumers to contact you to discuss your interior design services in addition to these pages.
These sections should convey your decorating style as well as your experience. Interior designers will find the following pages useful:
Your previous projects' portfolio or photo gallery
Page of the proposition
Testimonials from clients
Image or link mentions in the media
Create Intuitive Navigation
It's time to construct a navigation structure once you've decided which pages to include.
This is the arrangement of links and menu bars to assist people in locating the information they require. Your users will enjoy a terrific experience if the navigation is simple.
To begin, divide your pages into groups. Links to your most important pages should be included in the main group. These buttons are located on the main menu bar.
Are you unsure of what to include? Consider your website from the customer's point of view. What are they seeking when they arrive on your home page?
If they're thinking about hiring you for design work, they'll undoubtedly want to view some examples, which means your Portfolio and Gallery page links should be easily accessible.
Create a stunning homepage
When someone arrives on your homepage, they have only a few seconds to decide whether or not they want to stay. That is why, when designing a website for interior designers, it is critical to include a visually appealing and compelling page.
Because interior design is so visual, it's standard online best practice to use high-resolution photographs to communicate your story. You could select a single image to symbolize your style. You may alternatively use a slideshow with an image that changes every few seconds. This is especially helpful if you specialize in multiple types of interior design.
The photos you select should be representative of your greatest work.
Select a Portfolio Layout That Is User-Friendly
The heart and soul of your interior design website is your portfolio. In most circumstances, it's the deciding element in a client's decision to use your services.
A portfolio serves numerous purposes:
Beautiful photos "wow" the user.
It demonstrates your style.
Demonstrates your abilities and experience
Clients will find it easier to peruse your past projects if you have a user-friendly portfolio. To begin, divide projects into categories like office space, residential space, and retail space. Then, to ensure that the page loads quickly utilize smaller picture files.
Consider providing each image a title and a brief description instead of using clickable image tiles for each project.
Remember The About Page
The About page is sometimes an afterthought on many websites.
It's an important aspect of the sales process for an interior designer–– but why?
Because interior design entails a lot of one-on-one time with customers, they need to know that you're friendly, knowledgeable, and approachable. An excellent About page demonstrates your personality and explains your qualifications, giving visitors the confidence to contact you.
You may go in a lot of different directions with your About page. You might describe how you got started in interior design or how you deal with clients. These personal facts or anecdotes help readers assess whether you're the proper fit for their project.
Consider your call to action.
A call to action encourages a website visitor to do a specified action.
Your sales process will determine your call to action. How do you want others to contact you? You may, for example, invite viewers to look at more of your work on Instagram or organize a free consultation call.
The key to a successful call to action is to place it in the right place. This will encourage users to act when they are most interested. Consider including a link to "Check out my recent projects" at the bottom of each portfolio page, as well as a "Schedule a free consultation" button on your About page.