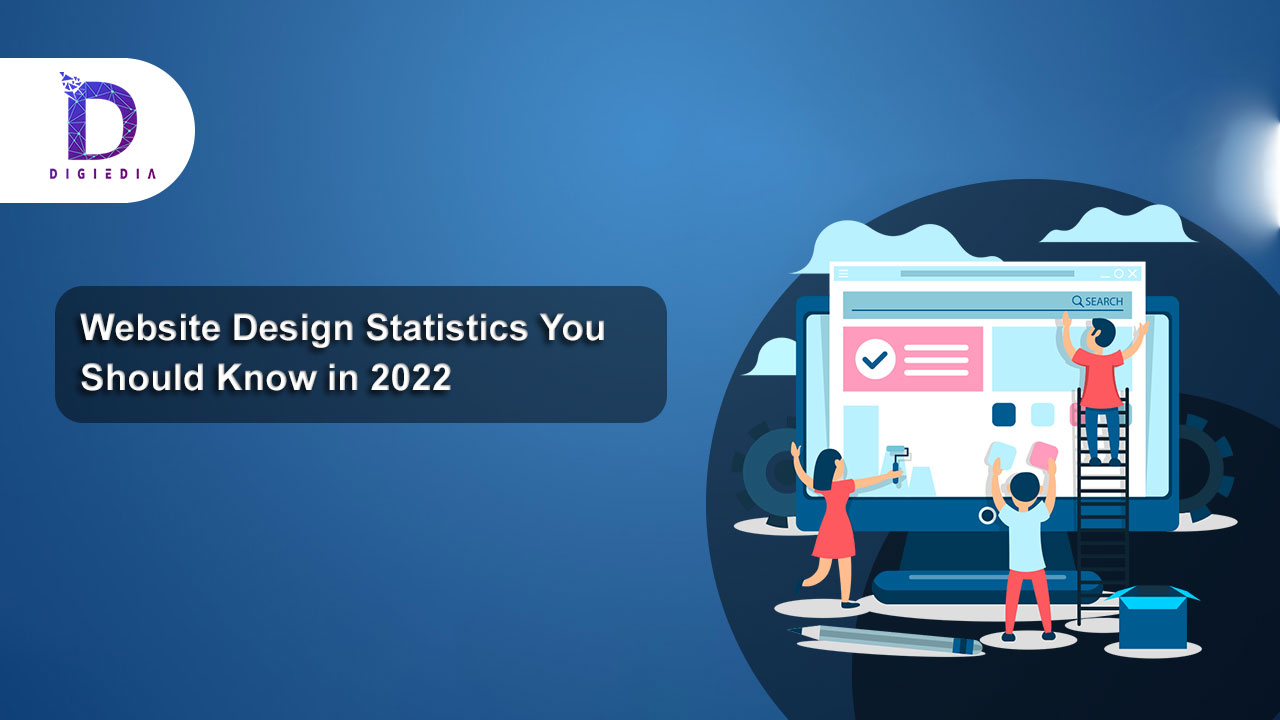 Website Design Statistics You Should Know in 2022
The term "industrial website design" refers to the content, style, and functioning of your website. All of this is determined by the website's design. It refers to the complete process of creating a website, from the initial layout planning and development to the color, visual, and interactive imagery selection. Below we will discuss 12 Website design statistics 2022 that will help you enhance your knowledge in the field of website designs.
One final point:
What does the web development industry entail?
The web design industry is one of the most lucrative in today's world. It made information abundant and available to all users, regardless of their location. Customers throughout the world rely on its services every day. Web development includes web design, web content generation, web server, network security configurations, and, of course, eCommerce development. In today's world, design is linked with business. What makes a website design successful changes over time? The 2021 web development statistics may assist you in staying ahead of the competition. Let's get the discussion started.
Website design statistics 2022
Let us discuss the Website design statistics 2022. For the year 2022, here are some noteworthy and well-chosen website design industry figures.
The design of a website has a 75% influence on its believability.
Many customers are scared of a website with a bad appearance, according to web design statistics for 2021. Due to the robustness of website design, customers can judge a company's reliability simply by looking at its website.
Sites that take too long to load lose $2.6 billion in revenue each year.
Take it or leave it, since people are often impatient. According to website design industry figures for 2021, customers make purchasing judgments in under 15 seconds. This means that a slow-loading website will influence this decision negatively, resulting in fewer new customers.
An average of 5.94 seconds is spent on a website's principal image.
If a company's website is to leave a lasting impression on a customer, it must have a magnificent, simple, yet well-detailed primary image that communicates the brand successfully with just one glance. Branding is more important than ever before when it comes to Website design statistics 2022.
88 percent of online users will not return to a website after a bad encounter.
An unattractive website appears to be bad for business at first glance. In 2021, just a small percentage of visitors will be patient enough to give well-designed websites a chance.
The majority of people choose to access the internet via their mobile devices.
Our daily lives have become increasingly reliant on mobile phones. As a result, it should come as no surprise that most people prefer to utilize the internet in this manner.
More than 90% of the world's 4.28 billion mobile users prefer to browse the Internet on their mobile devices, according to mobile-friendly website data.
Reading average, users spend 5.59 seconds on textual material on a website.
This is just enough to give a corporation a positive impression. Web design statistics for 2021 show that revealing content in steps rather than flooding consumers with information is more successful. A step-by-step technique, if necessary, allows the user to find more useful information by perusing more of the website.
On pages with videos, users spend 88 percent more time.
Video has been demonstrated to be more successful at capturing people's attention than images and text. Animated videos have been popular among both users and designers due to their attraction and vibrancy. In general, videos increase client engagement with a website page and can influence purchasing decisions.
85 percent of shoppers are influenced by color in their purchasing decisions.
According to surveys, 66 percent of shoppers say they won't buy something if their preferred color isn't available. People's emotions are evoked by colors. As a result, the colors on a website must match the images on the page.
54 percent of users desire personalized internet experiences.
According to website design data 2021, consumers desire personalized online experiences. According to website design industry statistics, after integrating customization, 93 percent of firms saw an improvement in conversion.
The design of a website was deemed the most essential factor in establishing a company's credibility by 48% of people.
That's roughly half of the whole user base! Your website will reflect the influence on your target audience. It's the image you wish to project to the rest of the world. The quality of your website will help people recognize you and grade your company.
Eight out of ten times, consumers would stop engaging with content that didn't display well on their device.
That's wonderful news! There are a variety of reasons to invest in your website. And now you've added another muffin to your basket: 80 percent of users will value content formatting that looks great on all devices. As I already stated, there is fantastic news!
According to 85 percent of respondents, customers trust online evaluations as much as personal recommendations.
To put it another way, evaluations have a lot of power to persuade others about a product's quality. Everyone looks at ratings and reviews before making a financial decision. There are a lot of possibilities here. A good reputation is built on positive reviews!
Conclusion
Website design statistics 2022 change regularly, and you must keep up to stay relevant and effective. With so many businesses offering similar products and services, website designhttps://blog.hubspot.com/marketing/best-website-designs-list
may help you stand out and show that your brand is valuable. As a result, use the Website design statistics 2022 and best practices in this blog to ensure that your website is aesthetically pleasing, mobile-friendly, speed-optimized, and offers customers unique experiences.
Allow our web design company to help you improve your website design strategy. Digiedia is a full-service digital marketing agency that offers top-notch website design services to assist you in growing your business online. So that you can stay on top of Website design statistics 2022, our team of experts can assist you with WordPress and eCommerce web design. Please contact us right now to speak with one of our experts.