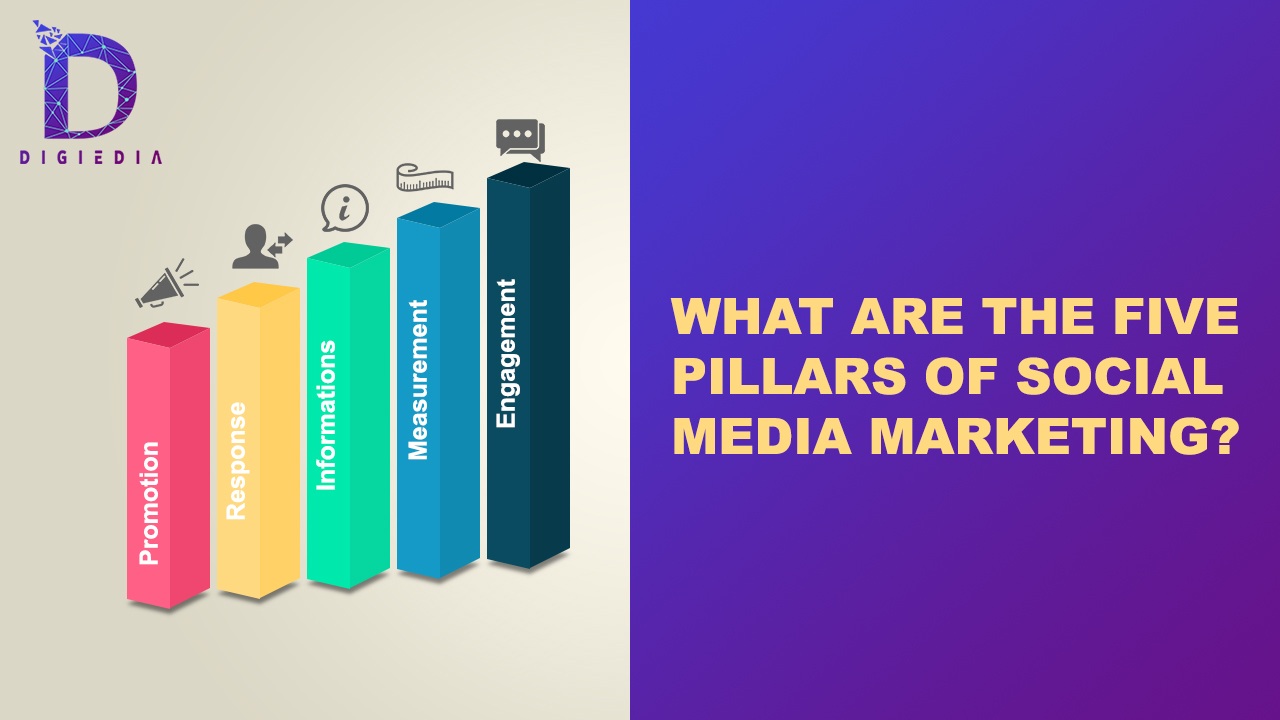 WHAT ARE THE FIVE PILLARS OF SOCIAL MEDIA MARKETING?
Social media marketing
social media marketing is the usage of social media as a marketing platform to boost your business. According to Mark Zuckerberg-
"Think about what people are doing on Facebook today. They're keeping up with their friends and family, but they're also building an image and identity for themselves, which in a sense is their brand. They're connecting with the audience that they want to connect to. It's almost a disadvantage if you're not on it now."
Social media marketing is taking a more significant role in business than ever. Social Media Marketing can be one of the most successful ways to make you and your brand known to a vast population in a lifetime period.
It generates leads, uses a Facebook shop or Instagram shopping to get people on your product page, provides great customer service, and many more. The main social media platforms are Facebook, Twitter, Instagram, LinkedIn, YouTube, and Pinterest. Apart from that, you can find various other social media tools to boost your business.
To get succeed in social media marketing, you need to make a powerful marketing strategy, planning, and analytical plans. social media marketing as a whole is very much important and beneficial to your business growth as we will discuss in the following section, you should remember the top five PILLARS OF SOCIAL MEDIA MARKETING strategy on the success of your business will be based.
The five PILLARS OF SOCIAL MEDIA MARKETING-
STRATEGY-
your online identity should be the one on which customers can rely. Creating a marketing strategy is the first and foremost PILLARS OF SOCIAL MEDIA MARKETING. Nowadays, each and everyone uses social media. You should ensure your goals and you need to understand how social media works.
With social media, you can do anything including creating brand awareness, and engagement, boosting traffic to your website, etc. social media acts as a customer support channel to your customs. You should select your social media platform depending on what kind of business you own. Choosing the right platform can boost your business and make your brand a well-known brand.
After selecting the right social media platform, not it's time to analyze what type of content you want to share. You have to understand the buyer's persona and according to that, you should create a campaign.
PLANNING AND PROMOTION –
plan before posting any content online. if you follow a schedule while maintaining your social accounts, people will get to know your brand is genuine, authentic, and professional. it will be better if you create a content calendar first. content pillars are a fundamental thing that guides individual pieces of content to be produced.
having planning not only helps to maintain brand consistency but also helps to create new ideas.
if you are familiar with your buyer's persona, then make the necessary amendments to suit your online business.
once your content is ready, publish your content online. choose the time for publishing when most of your customers will be online. you should post often to maintain your brand authenticity.
ENGAGEMENT-
after publishing your content, it's time to check the engagement and conversion rate. this is one of the important PILLARS OF SOCIAL MEDIA MARKETING. customers may tag your brand in posts or respond directly to your content. they can even write a review of your brand.
some things are not in your hand. so having a strategy and planning can help you to grow your engagement and conversions. ensures that positive comments are met with enthusiasm and negative comments are de-escalated and rectified.
this is called community management. whenever you get questions, reply to them professionally. this is how you can get interacted with your customers. plus for a positive brand reputation, you do not want to leave people hanging for too long.
ADVERTISING-
after covering planning and promotion, it's time for perfect advertising. This is another one of the important
PILLARS OF SOCIAL MEDIA MARKETING.
organic contents have their limits. organic contents reach is only 6.4% of your page's total likes. this is a comparatively very small number. if you want to get higher engagement and want a better reach, go for paid advertising. social media paid to advertise helps you to reach a broader, more targeted audience by adding
location- state or cities where you want to show your ads
interests- specify interests that can range anywhere from book lovers to personal finance.
Behaviour-past purchases behavior or their device usage behavior.
location- state or cities where you want to show your ads
interests- you can specify interests that can range anywhere from book lovers to personal finance.
demographics- age, gender, relationship status, education, jobs, etc.
contact lists- you can choose email addresses that can be matched with customers' social media accounts.
lookalike audience- individuals who are typically similar to your audience.
that huge amount of targeting options makes social media ads extremely valuable to your business.
ANALYSIS (REPORTING)-
each platform offers some specific kind of tools that illustrate your social media traction. however, with the wide array of metrics offered by the platform, it can sometimes be overwhelming to decide which metrics should we follow.
for example, if your business wants to engage with its community and understand how contents are performing, some important metrics you have to check out-
post engagement rate
total reach
engaged audience
average post engagement rate
demographics, etc.
Your * strategy is not a set-and-forget operation. Your audience will change over time, and so do platform features and algorithms. Regular reviews will help, but there's no need to keep peeking under the hood. you will find monthly reports to be the most helpful, because that way you give your social media marketing efforts a good enough duration to gather all over data, before adjusting the strategies and planning accordingly.
These are the top 5 most important PILLARS OF SOCIAL MEDIA MARKETING you should follow before starting a business online.