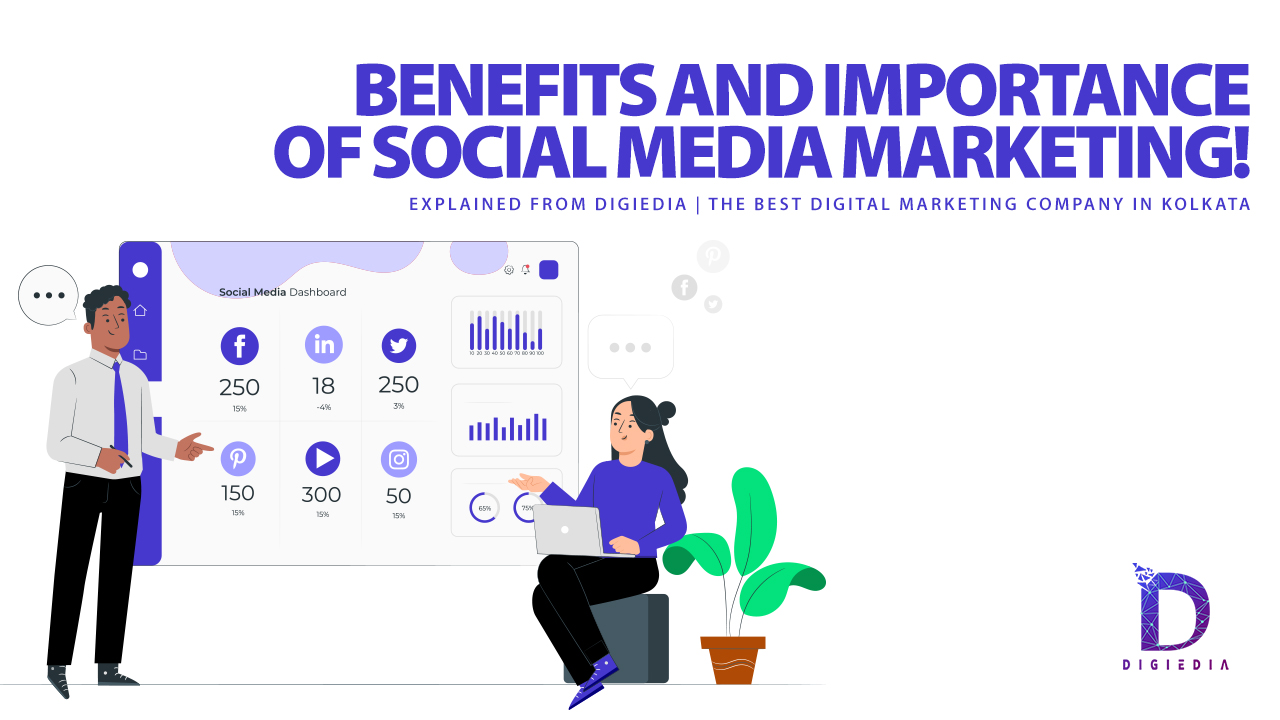 Benefits and importance of social media marketing!
The team spends as little as five hours per week to boost your company's visibility, traffic, and revenue for little or no money. That's correct! Around 90% of marketers indicated that social media gave their brand a lot of visibility, and that's only one of its many benefits. Social networking is becoming an integral aspect of every marketing plan, and the advantages of doing so are so compelling that anyone who does not take advantage of this low-cost resource is losing out on a fantastic marketing opportunity. It's clear that social media marketing is an important component of marketing success, and many marketers recognize the platform's potential for business growth. Let's look into the importance of social media marketing.
Importance of Social Media Marketing:
Increased Brand Recognition
One of the most cost-effective digital marketing tools for syndicating content and increasing your company's visibility on social media. Because you will be engaging with a large audience of consumers, implementing a social media plan will dramatically boost your brand recognition. Create social media profiles for your company and begin connecting with others to get started. Obtain "likes" and "shares" from employees, business partners, and sponsors. Simply having people connect with your material can raise brand recognition and start to establish your company's reputation. Each shared post will introduce a new network of people to your company, potentially leading to new clients, and the more people who know about your company, the better.
Increasing Inbound Traffic
Your inbound traffic is confined to your regular clients if you don't market your business on social media. People that are familiar with your brand are probably looking for the same terms you are. You'll have a lot more trouble contacting people outside of your loyal consumer group if you don't use social media as part of your marketing approach. Every social media profile you add to your marketing mix serves as a portal to your website, and every piece of content you publish represents another chance to gain a new consumer. People from all walks of life use social media, and their backgrounds and actions are diverse.
Distinct people have various demands and think in different ways. For example, an older generation of consumers may look for your website on Facebook using a specific phrase, whereas millennials may start their search on a different social media platform entirely because they shop for things very differently. You can efficiently open your business to a bigger variety of diverse consumers all around the world by marketing on social media. This is one of the main importance of social media marketing.
Search Engine Rankings Have Improved
Although posting on social media can help your business gain some website traffic, significant success requires more effort. Search engine optimization is critical for improving page ranks and driving traffic to your company's website. While social media does not directly help search engine results, according to Social Media Examiner, more than 58 percent of marketers who have used social media for a year or more have seen an uptick in search engine rankings. Being able to rank in the top spots for your keywords can drastically increase your traffic and provide favorable outcomes for your company.
Create high-quality content that incorporates your desired keywords to give yourself the best chance of ranking higher on social media. Blogs, infographics, case studies, business information, and personnel images will add intrigue and credibility to your company's social media page. When you start producing good content, you'll start to establish a social media community of people who will "like" and "share" it. Most importantly, it gives you more opportunities to get in front of industry influencers who will write about your company and link back to you, boosting your search engine rankings directly.
Increased Conversion Rates
With more visibility, your company has more conversion opportunities. Every blog post, photograph, video, or remark has the potential to drive traffic to your company's website. Through the humanization component of social media marketing, your company can make a great impression. It personifies a brand when it interacts with customers by sharing content, commenting, and updating statuses on social media. People prefer to do business with one another over corporations. Over 51% of marketers said that taking the effort to build relationships with customers resulted in increased sales. The more positive an impression you establish on a visitor, the more likely they are to remember your company when they need your product or services.
According to studies, social media has a lead-to-close rate that is 100 percent higher than outbound marketing. When a brand is engaged online, consumers who follow your brand's accounts are more likely to believe your company's authenticity. People utilize social media to stay in touch with their friends, families, and communities. Why not add your brand to the mix now that everyone is talking? When consumers require your products or services, they're much than inclined to recommend your brand to a friend, offering social proof of your company's quality. According to Social Media Examiner, 66 percent of marketers experienced lead generation benefits from spending at least 6 hours per week on social media sites.
These are some importance of social media marketing.