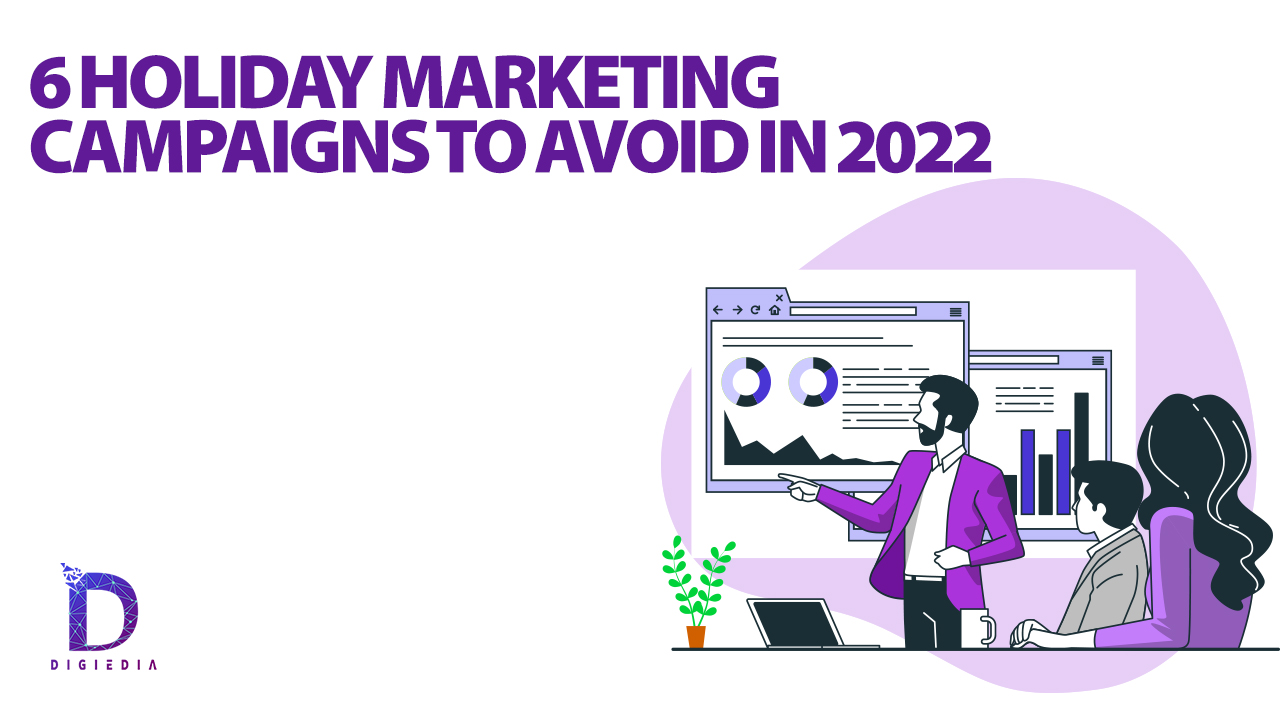 6 Holiday Marketing Campaigns to Avoid in 2022
Businesses plan to close their books and make as much money as possible during the holiday season. The holiday season is the most wonderful time of the year for eCommerce businesses like yours, but it is also the busiest and craziest. It's that time of year when you need great holiday marketing ideas to persuade clients to perform online Christmas shopping, boost revenue, and finish the year strong. It's also an ideal moment for your business to offer outstanding holiday specials, create a memorable client experience, and stand out.
Given that the majority of Christmas marketing advice focuses on what you should do, let's take a detour and show you what you should avoid.
Holiday Marketing Campaigns To Avoid
Avoid these six holiday marketing campaigns to avoid being on the naughty list:
The "Visit-Our-Website" Campaigns are the first.
These tactics rely on enticing holiday marketing to persuade customers to click on links. These links, on the other hand, take interested purchasers to the main website.
The Error:
This holiday marketing campaign to avoid is a must because your website is the problem in this kind of advertising
Online holiday shopping can be stressful because consumers only have so much time to buy everything at once. As a result, they want to skip over sections of text to get to the information you promised in your adverts immediately away. Typically, your main website will provide general information about your company. It isn't what your visitors are looking for right now. It's just something that causes them to postpone their online Christmas shopping.
The Solution:
Your holiday marketing strategy does not necessitate a complete redesign of your website. Instead, establish fresh landing pages dedicated to seasonality marketing. This enables you to put your Christmas or New Year's marketing ideas into action swiftly and affordably. It'll also help you attract busy holiday shoppers and improve their online buying experience.
Campaigns with the same old keywords
Another holiday marketing campaign to avoid is the ones with the same old keywords. these campaigns successfully capture the Christmas spirit.
The Error:
In your holiday promotions, sticking to the same old keywords prevents you from maximizing brand recognition and sales chances that can only be found by accessing holiday-related search terms.
The Solution
Study holiday SEO, keep an eye on the Christmas economy, and capitalize on seasonal searches to get your brand in front of customers with strong buy intent. Identifying popular phrases and incorporating them into your communications can be done using Google Trends and other similar tools. Working with a holiday SEO provider can also help you appear in relevant search results during this busy season.
Hashtag-Limited Campaigns
All set with festive-looking landing pages. All of your holiday keyword research is finished! These kinds of marketing appear to have it all. Except for one thing: relevant hashtags.
The Error:
It's easy to get caught up in the large picture of your holiday or Christmas marketing ideas and overlook the finer points, such as hashtags. However, keep in mind that your special bargains or offers must be viewed before they can provide the desired outcomes.
This is why hashtags are so valuable. They assist in putting your holiday postings in front of audiences who are in the midst of online holiday shopping, allowing you to increase brand exposure and reach a larger audience.
The Solution:
Look for a hashtag that best represents your company or holiday marketing. If you're stuck for ideas, look at what's hot in your industry.
You'll also need to think outside the box when it comes to how you'll use hashtags in your campaign. You can use them to:
Keep track of all your sales and promotions in one easy-to-access location.
Encourage customers to utilize the hashtag when creating user-generated material about your product or service.
Boost your company's visibility.
Hashtags are popular and beneficial on Twitter and Instagram, but not so much on Facebook. When planning your holiday marketing campaign, keep this in mind.
The "Ad-Free" Movement
These holiday marketing efforts should be avoided since they are an unnecessary expense because they include fantastic Christmas marketing concepts, icon and header revisions, sales announcements, and cute hashtags. Advertisement that is paid for.
The Error:
Paid ads aren't just another cost to add to your holiday marketing budget; they're essential. Pay-per-click (PPC) and social media advertising, when done correctly, can help you gain more awareness, boost holiday sales, and increase your ROI (ROI).
The Solution
As usual, create your time-sensitive deals or seasonal promotions. Take some time, though, to develop a sponsored advertising campaign.
Make time to prepare your Christmas ad copy and create visually appealing graphics. Then, on big networks such as Facebook, Instagram, and LinkedIn, carefully post your adverts. To bring more visitors to your website or landing page, you can consider investing in PPC ads.
"Unsatisfactory Customer Service" Campaigns
Even though the holidays are joyous and bright, many campaigns lack that seasonal flair. They provide the same level of service as they do at other times of the year.
The Error:
Online and offline Christmas shopping isn't all fun and games. And, with holiday shopping stress and lengthy lines dominating Christmas and New Year's celebrations, marketing strategies should focus on alleviating these issues. Furthermore, you must comprehend these periodic trends and plan your online store for seasonality in eCommerce.
This holiday marketing campaign to avoid for these reasons, If any of these apply to your present eCommerce marketing strategy,
An online store that is unprepared for a surge in traffic and orders.
A website design for an eCommerce store that does not include a shopping cart.
An inconvenient checkout process
The Solution:
Make it your ultimate mission to help your consumers feel less stressed. Here are some helpful hints for creating a fantastic online shopping experience:
Pay attention to retail seasonality trends and plan ahead of time for inventory. As a result, you'll be able to promptly respond to the needs of clients who are performing holiday shopping online.
Provide answers to clients' questions via an easy-to-understand FAQ website or a live chat function. You can also offer gift suggestions or shopping advice for a stress-free Christmas season.
Work with your web developers to make sure your eCommerce store functions smoothly.
No-Connection Campaigns
These campaigns are all about using social media to get the word out about holiday promos and limited-time incentives. However, this is one of the holiday marketing campaigns to avoid to get a better reach.
The Error:
There's nothing wrong with using social media to reach enormous audiences. However, you must keep personal contact with your prospects and existing consumers. Failure to address this issue may prevent your company from developing a remembered and likable brand among customers.
The Solution:
Use personalized holiday email marketing to strengthen your relationship with your leads and existing consumers. Based on their previous experiences with your brand, highlight relevant specials or seasonal products. You may partner with a holiday email marketing service to ensure that your emails appeal to their emotions and look well on their mobile devices.