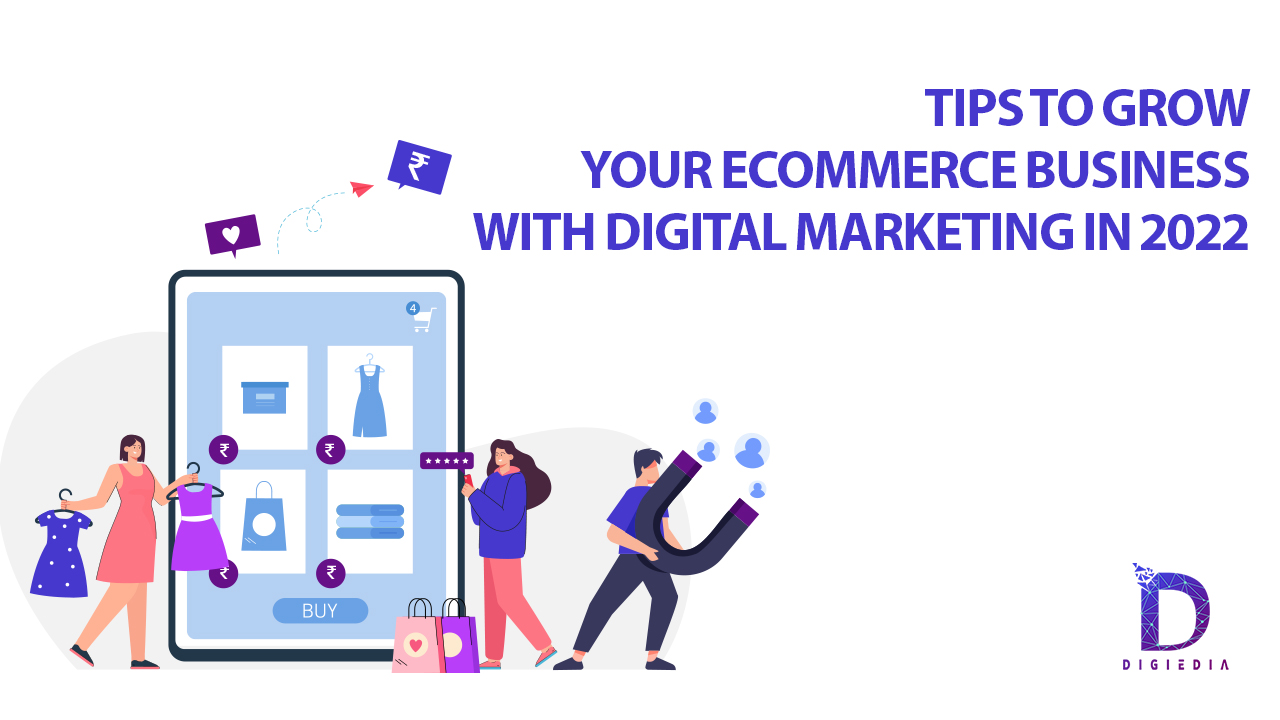 Tips to grow your e-commerce business with digital marketing in 2022
An e-commerce business's operations are carried out digitally, from product and service display to placement and payment. When it comes to eCommerce, business is booming with digital marketing. However, you must market your eCommerce business if you want it to grow on a large scale. There are many opportunities for you right now in the e-commerce business, but they come with a lot of competition.
The majority of the people need little to no experience to utilize the marketing strategies and start their own e-commerce business, but they must have a fundamental understanding of how the digital platform works to thrive in online sales. Consider the following tips to help you grow your e-Commerce business with digital marketing in 2022.
How to grow your e-commerce business with digital marketing
1) Optimize your e-commerce business
The most important step to growing your e-commerce business with digital marketing is the way a business is presented to the customers. Customers' perceptions will be influenced by the basic design of your website. Its usability will be a key factor in determining whether or not a customer stays on the website. "First impressions are always the last impressions." As a result, your company's online store must be user-friendly. It should make it easier to navigate the portal. Furthermore, the visual appeal of the page should be good. Depending on the product or service being offered, the design should be either formal or informal. When starting an e-commerce business, a few things to consider are SEO (search engine optimization), the availability of all payment options, the company's contact information for customer support, and grievances or a chatbox.
Make sure your storefront is mobile-friendly so that it can be accessed from mobile devices or tablets. As a result, your online sales will rise.
2) Locate your targeted audience.
The major demographic for whom your product or service is designed is referred to as the target audience. Understanding who they are and what they are interested in is key to growing your e-commerce business with digital marketing. This can be aided by using social media platforms. Connecting with communities and people who work in adjacent fields is crucial. Another effective method for determining this is to conduct online surveys. In this scenario, you're interested in anybody who responds positively to your web business.
3) Find the best price.
The next step to growing your e-commerce business with digital marketing is to charge a fair price for your services. The price-profit ratio can help you figure it out. To make a reasonable profit, the product must be priced appropriately about its manufacturing costs. Clients will be lost as a result of high prices, and the company's credibility will suffer. Simultaneously, sustaining extremely low prices will result in demand-supply volatility, which would be a source of concern once more. There may be a shortage of products, resulting in an immediate price hike. As a result, it would be preferable if you limited the pricing to a certain range. Calculating the best price-profit ratio is an important step to grow your e-commerce business with digital marketing.
4) Customer feedback should be included.
Customer reviews, as we all know, are an important marketing tool for all big companies and businesses. The majority of shoppers base their purchases on the opinions of others. As a result, a company should seek out testimonials from its most pleased customers. Video testimonials from influencers or even people complementing the brand, in addition to textual reviews, can be quite enticing. The company has to recruit the help of its most loyal customers, particularly long-term consumers, to talk about the brand's utility and efficacy in detail. They can be shown on the brand page or the home page as one of the first few things a customer sees when visiting the website.
5) Establish a social media profile
Social media will be key to Digital marketing success in 2022. Every successful e-commerce business has a presence on social media. As a result, such businesses can simultaneously reach a huge audience while also identifying their target market. It's a fully free technique for developing a global presence that works well. Individuals can ask business inquiries or place orders directly through social media. Consumer acquisition is also aided by maintaining links to websites and contact information on social media networks
6) Customer service that stands out
The customer relationship does not end once a transaction is completed. The business should make every attempt to meet the deadline for delivering the product or service. A company may only be deemed dependable if it performs efficient post-sales customer support. The first step is to keep the contact information given up to date and accurate. During normal business hours, for example, call center numbers and contact ids should be available. You should also develop a team to respond to emails and other inquiries immediately. A money-back guarantee must encompass return and replacement services, as well as a set period.
7) Advertisement and marketing campaigns to promote the e-commerce business
Advertising is also crucial to the success of your e-commerce business. Billboards, pamphlets, and media adverts are all examples of advertising. Online businesses can also use ad extensions. Digital Advertisement banners can be shown on a range of well-known websites. The click-area of an advertisement that leads to a company's website should be as big as possible.
Instilling a sense of urgency is a marketing approach. Promotional offers, discounts, stock clearance sales, and end-of-season sales are all examples of sales-boosting strategies. Individuals will be lured to buy and spend money on the product as soon as they see the offer. Fear of missing out on the discount deadline will drive this behavior. These measures inevitably increase sales for your e-commerce business. Scarcity can be used to create urgency in your offers. This strategy encourages people to respond swiftly by reminding them that an offer is first-come-first-served. They'll have a "fear of missing out" feeling.
8) Enhance your e-commerce business
If new ideas are not included, all businesses, especially those that are online-based, become stale and lose their attractiveness. Existing options will fade into obscurity as new ones arise. People crave stimulation in their fast-paced life, which can be provided by being exposed to new technologies and breakthroughs. As a result, your e-commerce business will have to come up with new strategies to broaden its boundaries.
9) Determine the business growth with digital marketing
"If you can't measure it, you can't improve it," a well-known aphorism goes. As a result, conducting regular assessments of the company's success is critical to know where it stands. It's a crucial step to growing your e-commerce business with digital marketing. To do this, annual goals must be set.
For instance, Google Analytics assists in the evaluation of a company's status. It provides information about the number of visitors to your website for your online business. This allows the business to distinguish between website visitors who leave without purchasing and actual customers, and convert visitors to customers. It helps you grow your business by allowing you to make well-informed decisions based on research and data.