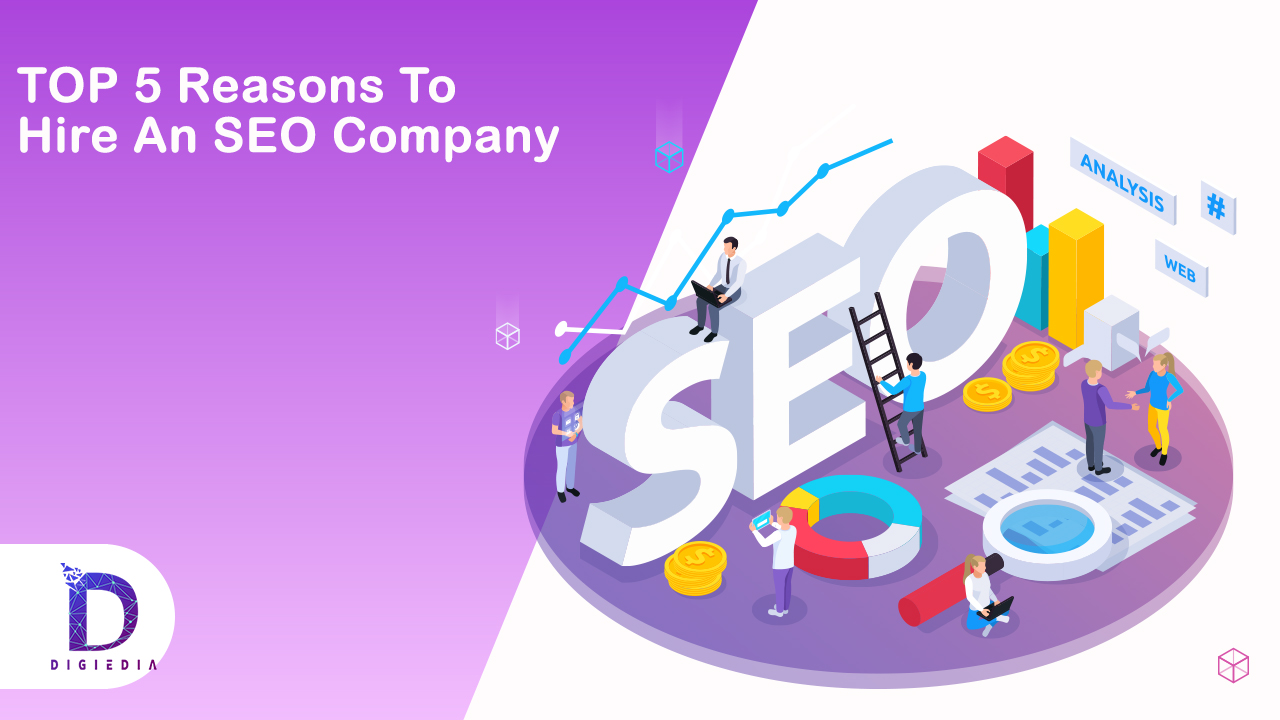 TOP 5 Reasons To Hire An SEO Company
Businesses must stay on top of the latest methods and marketing strategies to attract and retain clients and continue to develop in today's competitive internet market. It is a truth that you need an expert SEO company if you want your business to rank well on the pages of key search engines like Google, Yahoo, and Bing.
And, unless you're a seasoned practitioner with years of experience, you should never consider SEO services as a "do it yourself" endeavor. Hiring an experienced and successful SEO firm can assist you in achieving that coveted first-page Google ranking.
Let's take a look at some of the most significant reasons to hire an SEO company to work on your website, and how outsourcing your SEO may help you boost your ranks, increase your leads and customers, and significantly reduce your overall marketing costs.
These are the 5 reasons to hire an SEO company :
Your website's SEO will improve.
As you may be aware, search engine optimization has become crucial to your website's success. Only those in high-competition businesses may have needed SEO in the past to see their websites appear at the top of search engine results pages (or SERPs). However, every company faces competition, and SEO has become essential for attracting new clients or leads.
Your website might never get the exposure it needs to rank well if you don't use SEO. You may find it difficult—if not impossible—to expand your sales online without spending a fortune on other marketing unless your site is correctly optimized to load quickly, target the most relevant keywords, and directly compete with others in your field.
An SEO company (and its organic SEO services) can help you implement the strategies that are necessary for improving your search engine visibility, boosting your possibilities of contacting new clients or leads, and minimizing your marketing expenditures.
SEO firms have prior experience.
While you may be familiar with the fundamentals of SEO and have spent time reading papers and blog posts on the subject, you may lack experience in actually optimizing your website. Alternatively, you might be studying SEO as you go and experimenting with different methods on your website to discover what works. Is this anything you've heard before?
Experiments and guesswork should not be used to gauge your company's success. If you don't know what you're doing, SEO can hurt your website rather than benefit it. Link building, for example, can boost your authority, but the improper kind of links might get your site penalized—and even deleted from search engine results as a result.
SEO businesses offer the knowledge and experience to make wise selections for your site that result in boosts in your ranking and visibility rather than decreases. They are also likely to have worked with a range of clients in other industries, allowing them to handle your specific ranking scenario, demands, and expectations.
Working with a top SEO firm also assures that you'll be prepared for unanticipated developments, such as algorithm upgrades or penalties. SEO firms have dealt with similar situations before and can smoothly and quickly help you through each potential snag.
SEO firms produce the greatest outcomes.
As previously stated, you don't want to take any chances with your business's success or risk hurting your website. Even if you have the best intentions and conduct extensive research, you may not be able to reach the same degree of success online as an SEO expert.
An SEO firm with a lot of experience will be able to assess your website, goals, and competition and come up with a thorough plan to improve your search visibility. They'll be able to track your progress and change their plans as necessary to guarantee you're on the correct track to attaining the best results, regardless of how long it takes.
You can concentrate on what you do best by outsourcing your SEO.
If you've been reading about SEO for a long, you might be wondering how you'll find time to optimize your website, create new content, and generate links. You may also be concerned that you lack the necessary skills to complete these activities, or that you won't be able to complete them quickly enough to make a significant difference in your site's exposure. This is also one of the reasons to hire an SEO company.
Working with a professional SEO firm allows you to focus on what you do best—running your business—while they handle the rest. You'll also be less concerned about how your website is performing in search because you'll know that it's being handled by a team of experts. And also you may believe you understand how to run an SEO strategy, if you don't know what you're doing, you risk overspending and wasting money Attempting to optimize your website will almost probably result in a substantial waste of time and money. If you don't know what you're doing and make mistakes, you can end up with less traffic, fewer sales, and more time and money spent fixing your blunders. SEO can't be cost-effective unless it's done consistently, and an expert SEO firm is well-versed in employing correct and consistent SEO strategies.
Brand Awareness is aided by higher rankings.
Another reason to hire an SEO company is that a successful SEO strategy might result in increased brand awareness. Your exposure increases as your company climb the search engine ranks. This is advantageous to your business since people are more likely to trust a brand that appears towards the top of the results list than one that is near the bottom.
An SEO business can assist you in implementing the tactics that are critical for increasing your exposure in searches, increasing your chances of reaching new clients, and lowering your marketing costs.
SEO isn't the only service that full-service organizations may do.
Finally, you will be able to rely on a full-service Internet marketing agency for all of your online marketing needs, as opposed to a company that only provides SEO services. You'll know exactly who to contact if you need assistance with website content, advertising, inbound marketing, web design, or anything else.
Customers that upgrade their business from a simple SEO plan to a full-service package frequently receive discounted prices from full-service firms. As your business connection with them develops, you should find that they can satisfy your needs promptly and that they can assist you in growing your company and achieving your larger goals—not simply improving your search engine exposure.
These were the basic yet essential reasons to hire an SEO company to get you started and to begin with it, contact DIGIEIDEA if you want to invest in a profitable SEO campaign for your company. DIGIEIDEA is an experienced SEO firm that can design a proven SEO plan to target your audience, enhance website traffic, assure first-page ranks, and increase revenue for your company.