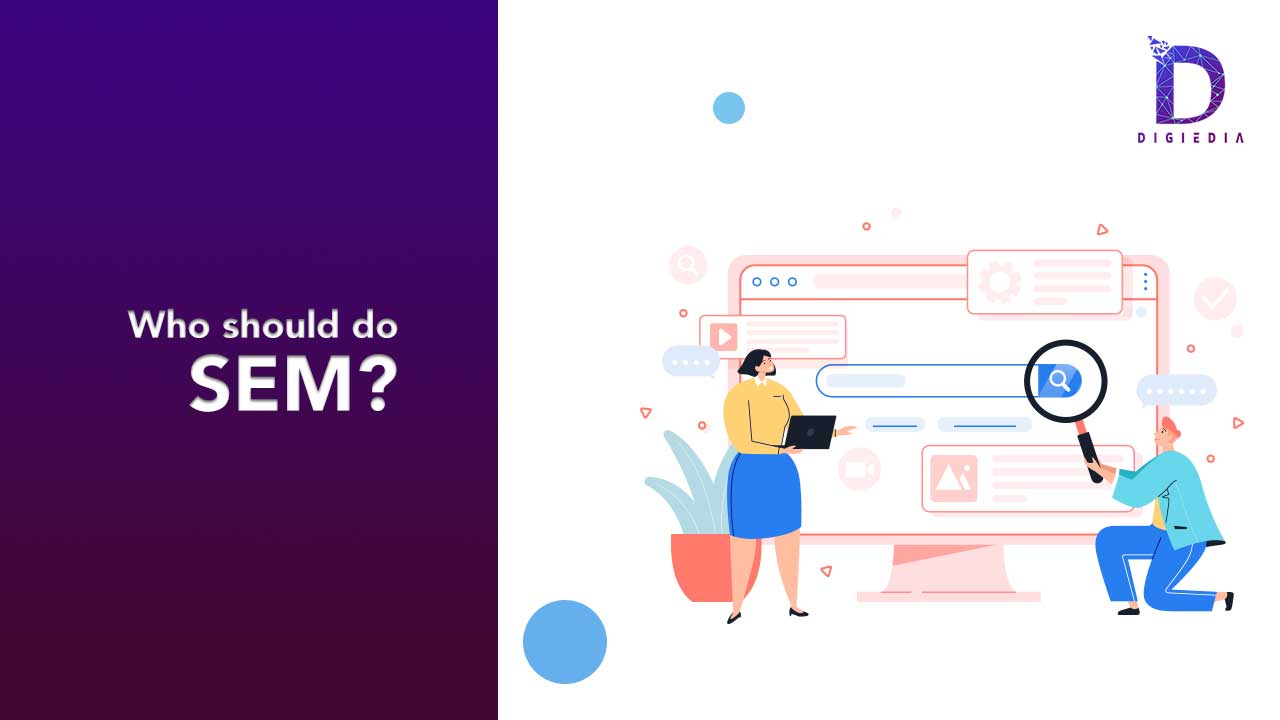 SEM or Search Engine Marketing is quite a common term used by all Digital Marketers these days. Do you guys also think of what does SEM mean? Don't worry; you are not the only one seeking the answer to this burning question.
Search engine marketing is essential for businesses or brands of all sizes these days. It is on the brands how effectively they use SEM that it turns out to work in their favour and showers them with leads and clicks.
What is SEM?
SEM, in laymans' language, can be explained as a very effective way for small businesses to reach their target audience, generate new leads/customers, leverage the revenues acquired, and reduce marketing costs.
SEM can also be termed as the act of using strategies to increase organic search visibility. In the past times, SEM was once used as an umbrella term for anything to do with online search marketing and encompassed things like SEO. But digital marketers have now made the distinction between SEO and SEM into two distinct criteria.
With the arrival of SEM, brands pay for ads to appear at the top search results on search engine results pages. They target keywords that they feel the users might search for so that when a user searches for those terms, they see an ad from the particular brand. The brand has to pay only when and if a user clicks on the ad.
What is the need for SEM?
Search Engine Marketing, in the present time, is the easiest and beneficial way to increase organic traffic for a brand or a company. Search Engine Marketing helps you to leverage your Online Presence and also adds up to the organic traffic quality and quantity of your website. With the boost in the online presence of almost every human being, it has become even more important to solidify your online presence for the sake of your company or brand growth.
There are numerous benefits of SEM these days. For example, with SEM, you can increase your presence over the internet and thus, increase your brand awareness and visibility. Do brands or companies often wonder if they should invest in Search Engine Marketing or not? The answer to this would be of course! Search Engine Marketing is the most helpful method to add up to the organic reach and visits to your website and leverage brand awareness. Yes, it is a form of Paid Marketing but for the people who are willing to invest in an organic increase in their companies' reach.
 Who should do SEM?
Often this question arises in the minds of some brands or companies if they should invest in Search Engine Marketing or not, or if it is actually beneficial for them to invest in Search Engine Marketing. In the present times, it is seen that almost every being spends a lot of time surfing the internet and searching random stuff and with this increase in the time spent on the internet, people are very likely to search for some keywords related to your preference and if a company invests the right amount of money with up-to-date knowledge about trending keywords, they will surely eat sweet fruits of organic reach and leads.
SEM is not restricted to just companies or brands with huge market capital. You do not need a huge budget to invest in SEM, but Search Engine Marketing can be opted by any company or brand looking for increasing their organic online visibility.
Keywords and Its Importance
Keywords are termed as the words that a user might search which will lead the search engine to show your page in the Search Results Section. Talking about being up-to-date with the knowledge of keywords, it is very important for a company or a brand to know the keywords that a user might use while searching for something related to their niche.
Whenever a company or a brand set up an SEM campaign they mark keywords that they want to target and which they want to avoid. Based on these keywords, if the user searches for something relevant to them, the company's website is shown in the top results of the search results section. There are 4 types of Keywords that a new company or a brand should keep in mind while setting up an SEM campaign.
1:- Broad Match Keywords:  Broad Match Keywords refer to as an umbrella for a set of keywords. For example, if a shoe-selling company wants to set up an SEM campaign targeting a keyword SNEAKERS, They would also target keywords like, "Best Sneakers Online", "Best Sneaker store" etc.
Broad match keywords give you a broader area to target keywords related to your brand.
2:- Phrase Match Keywords: Phrase Match Keywords refer to target the exact phrases that a user might search. The only difference could be in the words that come before or after the keywords. Let us suppose a campaign that targets the keywords CHATBOT MAKING, the companies who want to target some phrase match keywords would list keywords like, Online ChatBot Making, ChatBot Making in Mumbai, etc. 
3:- Exact Match Keywords: It might happen that if you target a keyword, for example, Virtual Assistant. A user might search for Virtual Assistance, or virtuals assistant, or anything like a spelling mistake. Here comes the role of Exact Match Keywords. Companies also target some keywords a user might search with some minor spelling mistakes or singular plural mistakes. This makes a single keyword cover a wider area of interest.
4:- Negative Keywords: Negative keywords are simply the keywords that a company or a brand would not like to list down during their campaign. These are the keywords that have no relevance with the niche of your website. For example, if you own a shoe store and list some keywords related to it, some of the keywords which would have no relevance to your niche of selling shoes might include, Shoe Making Videos, Shoe stitching videos, etc.
To conclude, Search Engine Marketing or SEM is not restricted to any particular brand or a company, anyone who is willing or has a vision to leverage their market visibility and organic leads can opt for SEM with the knowledge of the algorithms of Search ENgine and Keywords related to their respective niche.