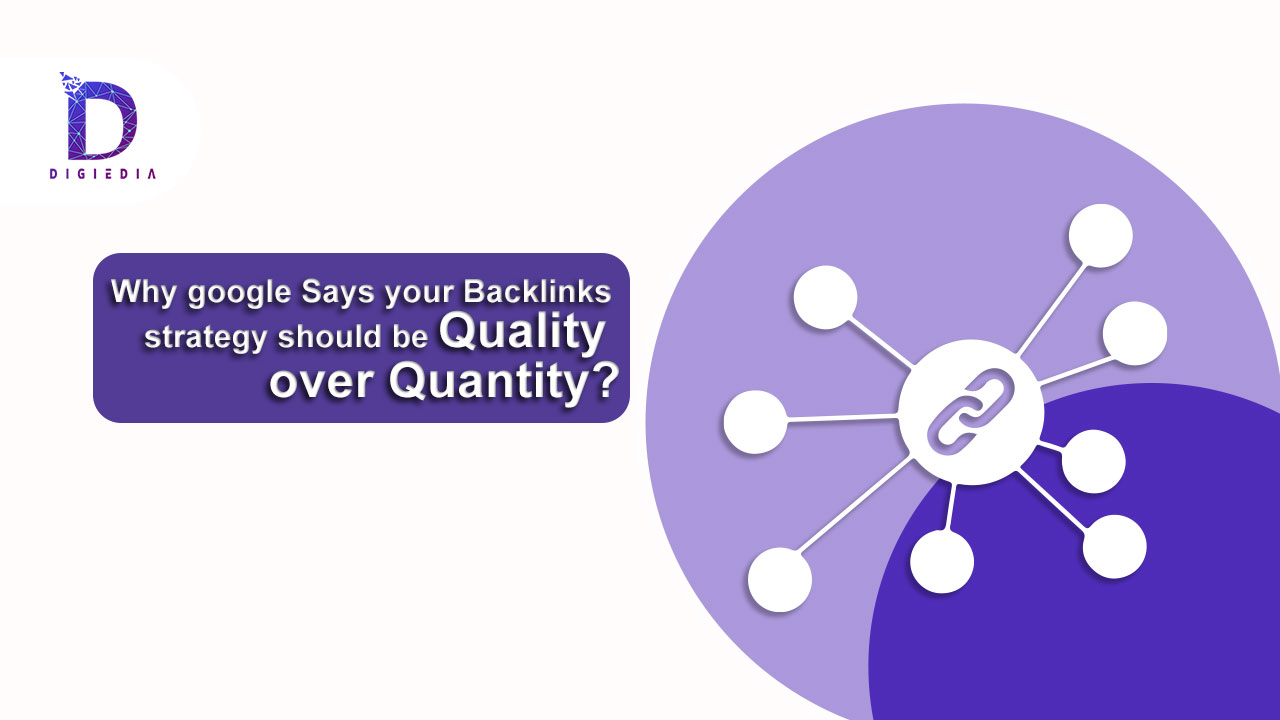 WHY GOOGLE SAYS YOUR BACKLINKS STRATEGY SHOULD BE QUALITY OVER QUANTITY
When it comes to SEO, it's a challenging business to be in. With so many people striving for the top spots, opinions on the best way to get there vary. You've probably seen the files that promise tens of thousands (or even millions) of backlinks in just a few days. Such strategies may wind up damaging rather than benefiting your rankings. When it comes to webpage rankings, Google places importance on the fact that Backlinks should be Quality over Quantity.
Quantity, of course, is still vital. With only a few backlinks, you won't be able to rank for a highly competitive phrase – but the various algorithms used by search engines tend to value where those connections come from more than the sheer amount of them. If you've ever looked at the top ten Google results for a keyword, you'll notice that sites with 10,000 backlinks rank lower than those with only 500. This occurs because Google considers additional factors in determining a site's authority, which can include the quality of its backlinks.
Other aspects, such as the site's age and other SEO data, are still important. On the other hand, high-quality backlinks can do what a flare gun strategy with thousands of low-quality connections cannot. If Google believes a website is gaining backlinks in an illegitimate manner, such as too quickly or in excess, it will penalize it. As a result, the ideal approach is to use a natural, organic backlinking method. Only the most well-known viral phenomena can go from 0 to 10,000 backlinks in a couple of hours. It's just not feasible. Such penalties might cause sites to drop dramatically in the search results after being notified by Google. Some fiver backlinking gigs are good, but many aren't.
WHAT DOES PAGE RANK REPRESENT IN TERMS OF BACKLINKING?
Page Rank, or "PR," is one of the most essential factors that most search engines consider when evaluating the quality of backlinks. It's a scale of one to ten, with ten being the highest. There aren't many PR 10 sites, but Google and a few other well-known brands are among them. CNN.com, for example, is among PR9's members. In general, these sites are regarded as authoritative, and a backlink from one of them is worth its weight in gold.
The truth is that lower-level SEOs won't be looking for backlinks from PR9 sites or even anything above PR5 regularly. Although most new websites begin with a PR of zero, many small-scale blogs have managed to attain a PR of 4 or 5, which isn't awful in the larger scheme of things. You'll be on the right track if you can gain some high-quality, relevant links from several PR3+ sites.
A good backlinking strategy should take time, which is a benefit rather than a drawback. Google (and other search engines) prefer to see your website grow organically over time. It is impossible to get results in a single day. Setting a goal of a few high-quality, high-PR backlinks per day over a few weeks is a smart system. This method is far improved and more long-term than acquiring a thousand PR0 connections in a single day.
HOW IMPORTANT IS LINK BUILDING FOR SEO?
Now that we know what backlinks are and how important they are in SEO, let's move on to the importance of backlinks. So, what role does link building play in SEO, and how vital is it?
As previously said, link building is the process of generating backlinks for your website. There are two approaches in general:
Natural Connect Building – acquiring backlinks through editorial means when others come to your material and naturally link to it.
Non-Natural Link Building – an umbrella term for link acquisition that includes editorial outreach, guest posting, and quality link building services, among other things.
Note: We used the term "non-natural link building" to differentiate it from "unnatural link building," which is a dubious method of gaining backlinks. To alter the page's ranking, unnatural or black-hat link-building services install artificial links on web pages without the approval of the page's administrator.
But how important is link building in terms of SEO? Extremely. Since it has become such an important ranking factor, various link-building companies have sprung up. Backlinks, as previously said, act as a vote of confidence for your website and are crucial for increasing your online visibility through organic search.
BACKLINKS SHOULD BE QUALITY OVER QUANTITY
There was no such thing as a debate regarding link-building quality vs. the number. However, Google began to grasp the importance of backlinks by introducing PageRank, a method that assesses the quality of a web page based on the number of links referring to it.
One major flaw was that it couldn't differentiate between low- and high-quality sources. Spam comments, private blog networks (PBNs), and link farms, among other black-hat link-building strategies, evolved as exploiters recognized an opportunity to fool the system.
Guest posting is one of the most popular methods for obtaining high-quality backlinks. Many blogs are looking for content and will include a link to your site in the author byline. All you need is a high-quality article that is related to their site and yours in some way. Google is said to favor guest writing, not least since the links are usually contextual and appear with excellent content rather than spamming link farms. It's also beneficial to bloggers because they may obtain high-quality articles for no cost.
Beginning in 2011, Google implemented a series of modifications to filter out and punish websites that did not follow its criteria. Before the upgrade, link-building services could just ask how many backlinks per month you wanted and delivered, regardless of whether or not they knew how to generate backlinks from high-quality sources. Today, the DA and reliability of a link source are far more important than the number of connections. Experts believe that when it comes to link building – Backlinks should be Quality over Quantity.
"The days of link builders using PBNs and link farms to rank a website are long gone. "These actions are against Google's guidelines, and they could result in a penalty," Cruz stated. "When it comes to conveying link equity, a quality backlink has a lot more weight, and the potential referral traffic and branding opportunities that come with it are pointing Google in the correct direction."
THE BOTTOM LINE
Building quality links as part of your link-building strategy are more vital than ever. One link from a highly respectable source, such as a popular blog or a trustworthy news website, has more link juice than a million links from suspect sources that Google may easily disregard.
A backlink is just a link from one website to another. Search engines like Google utilize backlinks as a ranking signal because when one website links to another, it shows that the content is valuable. High-quality backlinks can help a website's ranking and visibility in search engine results (SEO).
The truth is that PR isn't the only thing that influences a link's "quality." There are a few more factors to examine, such as whether the links come from sites that are relevant to your niche and what keywords you employ in the anchor text. On the other hand, Backlinks should be Quality over Quantity and one should take it seriously. Also, one shouldn't expect too much too soon.