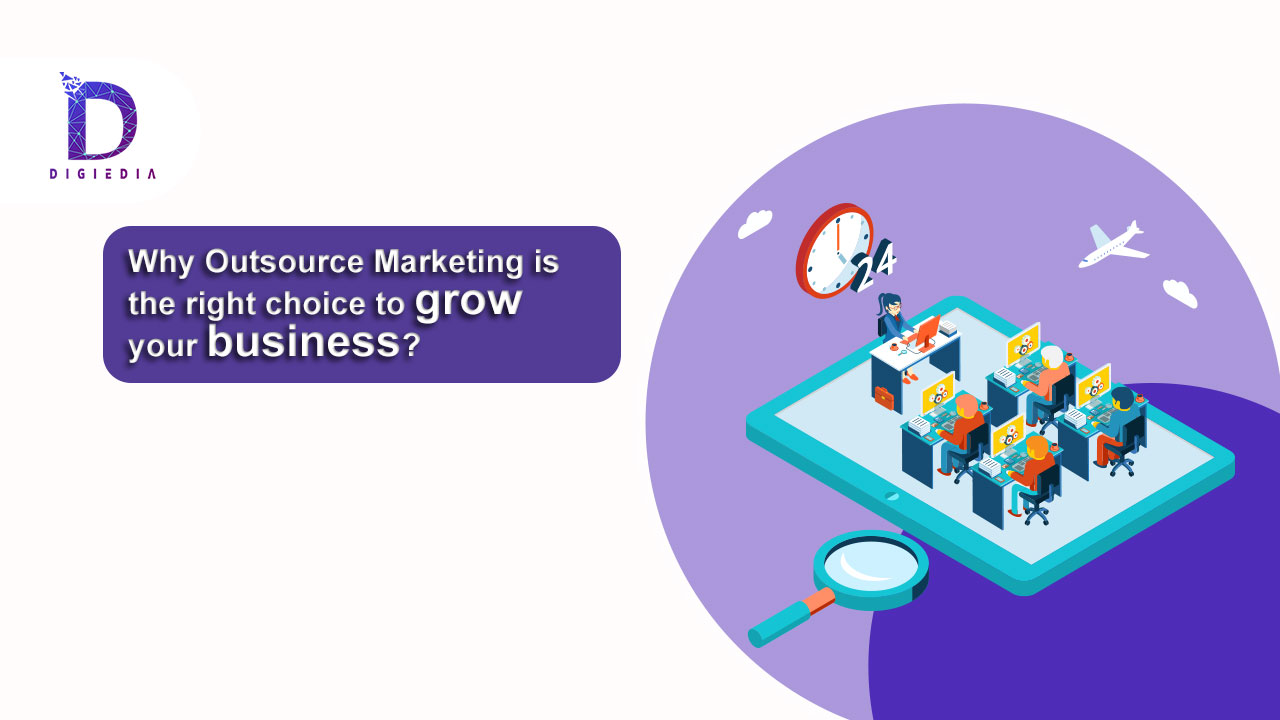 Why Outsource Marketing is the right choice to grow your business.
Introduction:
Marketing is akin to "key ingredient" in your business strategies. The more poignant you're with your marketing strategies, the more lucrative your business will be. With the dynamic and analytic marketing trends, you need to have vast and varied skilled marketers in your company. Every other business firm, no matter how large or small it may be, needs marketing to survive the competition. Most of the companies are driven by technologies. Hence they require a great deal of expertise to keep up with the technological trends in flux. So, they seek the help of Outsource Marketing firms to fill in the gaps and even take the reins.
What is Outsource Marketing?
Outsource marketing is an effective mode of marketing employed by professional business firms of all sizes across the globe. It's a business practice involving a third party marketing partner. This outsource marketing partner constitutes specialised expertise, tools and professional staff to provide a complete suite of performance.
When do you need Outsource Marketing?
In the beginning, all start-up companies rely on the in-house departments for marketing activities as well. Sooner or later the owners realise the worth marketing holds in the smooth running of business. Sufficient attention is needed to pay on marketing activities as well if you want your business to flourish. In order to do that, either you can hire an entire in-house department of marketing professionals or outsource your marketing activities to an agency.
However, hiring a full in-house marketing department will be expensive. Whereas outsourcing marketing would not even be that much expensive.
In addition to the in-house employees, a little help from an outsource marketing agency will prove worthy of every penny.
Outsource marketing firms generally comprise a wider range of offerings. Both, strategic and operational functions can be deputed to the outsource marketing agency you are working with. You can even rely on them to propose strategies, implement it and report accordingly. Eventually, the outsource marketing agency will become a crucial ally in your success. Existing staff can work alongside the outsource marketing agency to produce excellent results. They can gain experience as a by-product of healthy collaboration with the outsourcing marketing company. 
Why is outsource marketing the right choice to grow your business?
Outsourcing marketing activities can prove to be a solid strategy for your business. Here are some significant reasons why outsourcing marketing is the right choice for your business.
Fewer marketing mistakes:
Marketing trends and patterns change every now and then. They are always in momentum. To keep pace with the velocity, you need experts to handle it. Staying up-to-date with the most recent changes in marketing trends and patterns serves as the root to all the success in business. Most of the firms are run by people with much higher accomplishments and authority, namely, engineers, management consultants, attorneys, accountants or other professions. But they are not marketers. They are often ignorant and unfamiliar with the constant expansion in the scope of marketing activities. Thus you need a team of experts to execute your marketing activities. These experts will handle your marketing campaigns and activities professionally without any issues. The chances of making any mistakes and failures reduce rapidly.
Focus on your primary job:
Experts say, "Sticking to your core competencies is an absolute must".
You should do business in which you are best at. Indulging yourself in every performance will not give you your desired results. You need to have specialised personals for every performance, especially in marketing activities.
In business, your primary job may not be marketing. So focusing much on a secondary event may not turn out to be healthy for your business. Instead of focusing on your core competencies if you deviate your concern towards marketing, you might lose on your potential customers. To save yourself from this situation, you need a third party to execute marketing plans on your behalf.
Outsource marketing professionally deals with your marketing strategies, giving you the time to devote to your core competencies. You get the opportunity to focus and concentrate on your job you are meant to do, after handing out the marketing duties to the outsource marketing agency. You get to focus on insights rather than concentrating on operations.
Right marketing techniques:
You are spending enough time and money on your marketing, yet it isn't producing the results you are looking for. It can cause a problem. Maybe your techniques aren't correct leading to wastage of time and credit. Maybe the limited knowledge of your in-house team regarding new marketing techniques isn't sufficient enough for your growth.
So you need the expert help of professionals working in this field.
To rise above all the other competitors in business, you need to have proper and adequate information and resources about marketing techniques. To comprehend the complexity of marketing methods these days, you need external help from outsource marketing companies.
Outsource marketing companies will work solely on your marketing strategies by implementing new and right techniques suitable for your business. They work on highly developed technical activities such as search engine optimization, website design and analytics, persuasive content writing and many more. This will help your business to grow more in no time.
When you delegate your marketing duties and activities to another external company, you will restore the time which was earlier being spent on marketing.
Not only will it save your time, it will also save you from extra expenses. How? Hiring full in-house people for marketing, then training and specialising them in it, is time-consuming and expensive. However, if you allocate an outsourcing marketing agency for it, it will be cost-effective. You will pay them only for the services you need from them. No paying them for sick leaves, or holidays, or additional costs as such.
You will get access to a set of highly dexterous professionals without even hiring them. Talented specialists will take over your marketing activities and produce brilliant outcomes.
The above-mentioned points are the main reasons as why outsource marketing is the best option for your business.
Conclusion:
'The Great Resignation' of 2021, whose epicentre in the US, has affected the global economy. Though the numbers of quitting employees are quite low in India, it's better to play safe. This 'Big Quit' has left many companies looking up for employees to fill the void in their marketing positions. These developmental changes have compelled many companies to own outsourcing marketing strategies.
Outsource marketing is taking its position in the marketplace rapidly. When you outsource your marketing activities, you can ensure that all your marketing campaigns will be managed professionally, no matter how diverse the changes take place. Outsource marketing techniques can deliver high efficiency regardless how difficult the task is.
Outsource marketing will positively help you in your business growth and success.