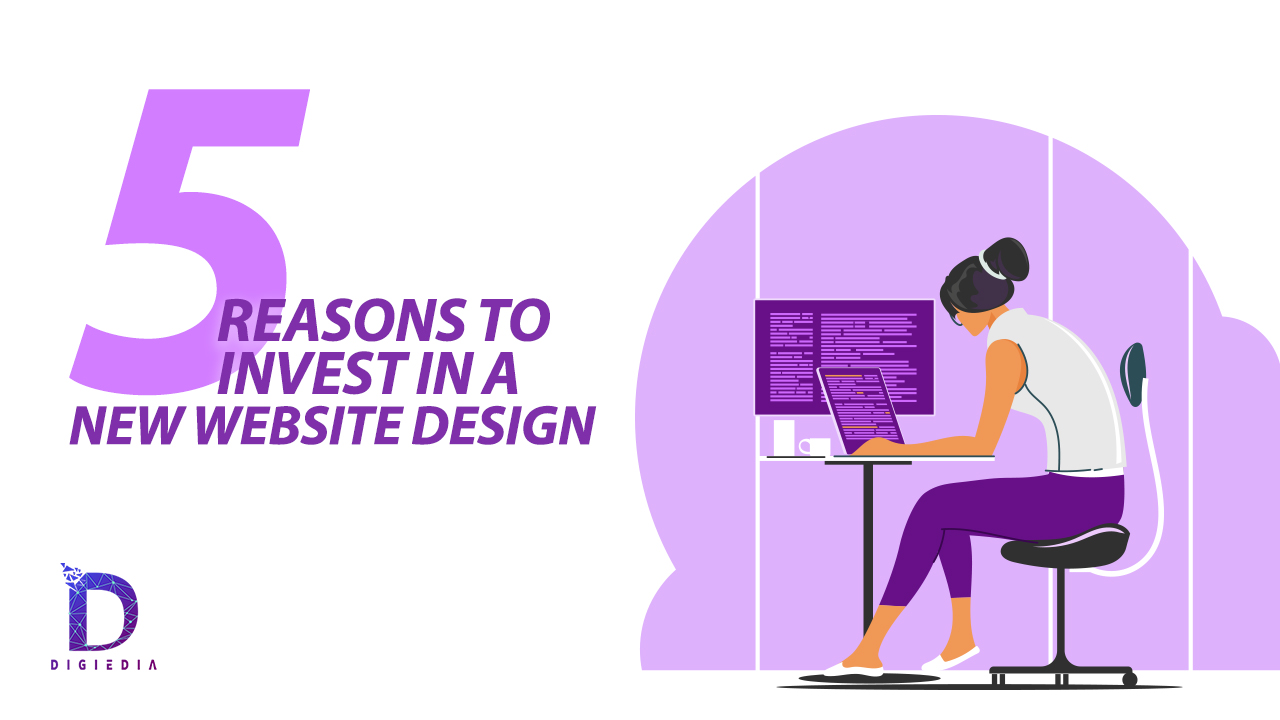 5 Reasons To Invest In A New Website Design
Is your website starting to appear a little dated? Is using it on a smartphone difficult? Or is it not bringing in the expected level of traffic? If you answered yes to any of the following questions, your website may need an upgrade. In this blog, we'll look at some of the Reasons to Invest in A New Website Design.
5 New Reasons to Invest in A New Website Design
Let us talk about the reasons to Invest in A New Website Design:
Mobile-friendliness
If you haven't already noticed, mobile-friendliness is a major problem in today's society. We live in a multi-connected, multi-device world where we want things to work no matter what device we're using. We simply move on to another website if one does not work on our phones.
Over the next year or so, Google's mobile-first index will provide even more compelling reasons to invest in a mobile website. That means if your site isn't mobile-friendly, it won't rank as well as others that are. Although you may not think this is a negative thing, did you know that mobile devices account for over 56% of all internet traffic?
The bottom line is that if your website isn't mobile-friendly soon, not only will it not rank well, but users will likely abandon it if it's difficult to use on a smartphone.
Usability
In the previous 10, 5, and even two years, website usability has improved dramatically. Websites are increasingly focusing on offering the best possible user experience as the user journey becomes more important. There will be no more convoluted navigation systems, scrolling to find information or multi-page web forms.
Usability is one of the most significant qualities of a modern website. It ought to be easy to navigate, well-organized, and intuitive. With a rising emphasis on a mobile-first approach to usability, design is now focusing on not just making a website look great, but also making it functional.
Performance
As the value of your website's ability to perform smoothly on all devices grows, so does the necessity for speed. Traditional websites were created for desktop computers, and internet connection speeds have improved, we've seen more elaborate and multimedia-rich designs. This creates an issue when serving mobile users, some of whom have poor internet connections. In these cases, you must make sure your website loads as quickly as possible on all devices.
Google's AMP initiative attempts to help develop fast-loading web pages for mobile devices by stripping back mobile sites. While this may not be the best option for your business, you should evaluate the performance of your website and make every effort to make it mobile-friendly.
Websites' rankings
A mobile-friendly website is becoming increasingly crucial and is already considered in website rankings, as previously stated. This will be much more essential when Google changes to a mobile-first index. You'll need a website that works for all of your visitors, regardless of device, to obtain the best possible rankings. A mobile-first website will provide a great user experience while also delivering what customers want.
Security Websites are increasingly being hosted through a secure connection that is certified by an SSL security certificate. This was previously just a requirement for websites that contained an online shopping platform (eCommerce), but it will soon affect more websites with the release of Chrome 56 in October.
This means that any information obtained via an HTTP connection, such as a user's name, email address, or phone number, will be marked as "Not Secure." While obtaining a secure HTTPS connection is not essential for the development of a new website, it is increasingly becoming a requirement.
A website that has a bad user experience
User behavior is an important factor to consider. Have you ever examined how your competitors' businesses or websites are performing? Users quickly accept new trends as technology advances. Maintaining one's market position requires competitive web design. When building a new website, always give room for upgrades and new features so you can keep track of all the new information about your expanding firm. A bad user experience is the most common reason for consumers abandoning your website.
What More to know about reasons To Invest in A New Website Design
Features do not work and content cannot be updated.
It's a turn-off when a user sees the same content on a website multiple times, and bad navigation causes many users to abandon the site halfway through. If your website has any of these problems, you should immediately seek out a new web design solution.
If it's exceedingly old and out of date,
Every company has a distinct need for a website redesign. Every reason is significant, but updating the site as it becomes outdated is one of the most vital. Recognizing obsolete websites does not require much experience or knowledge, and any web user can do so. If your website is obsolete in comparison to your competitors, their upgraded website may help you. Custom web design solutions are always advantageous in this circumstance since they provide the design that best matches your objectives.
Failure to fulfill client expectations
The most recent trend in website creation is the use of UI-UX Design, which allows for a better connection with active or future clients. It is a business-to-customer interaction. If your website doesn't have a UI UX design interface, it's time to update it.
Conclusion
These reasons To Invest in A New Website Design might bring your organization a guaranteed profit. A visually appealing website will not result in a direct profit, but it will attract more people who may become potential clients. One of the most significant reasons to have a new website design is to accomplish your sales goals. Why not invest in a new website design that will provide you with a good return on investment?