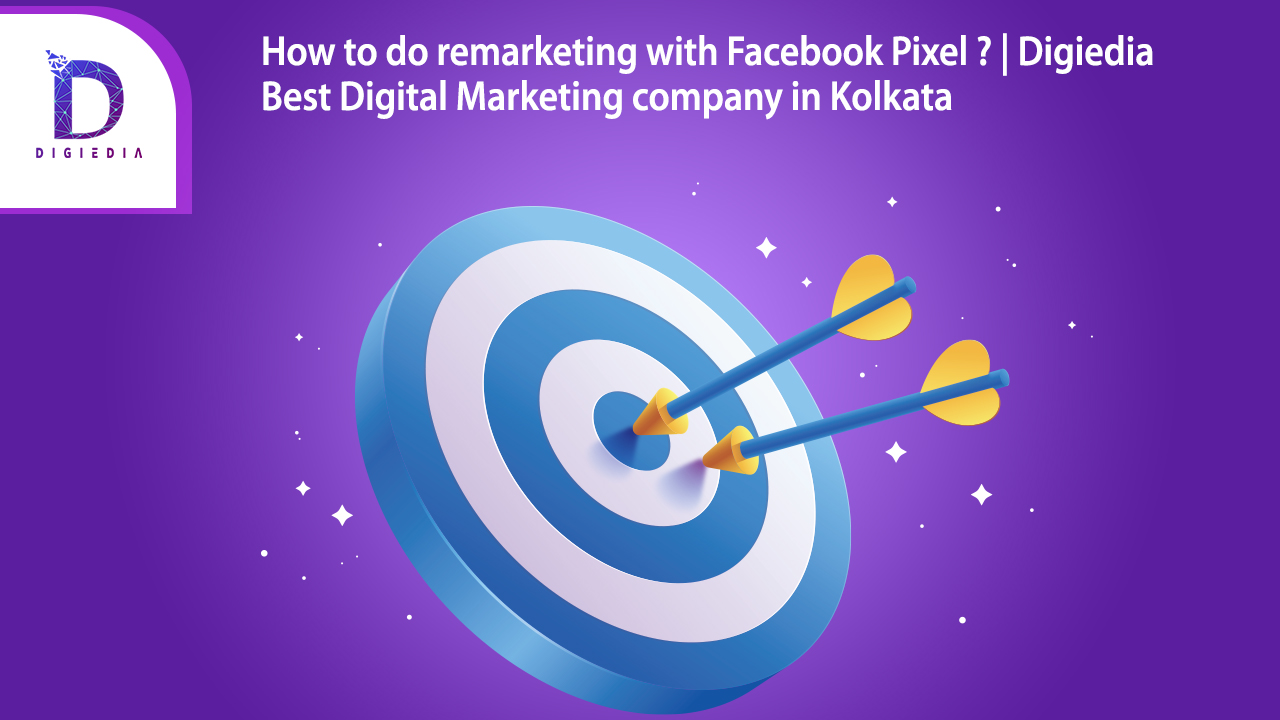 How to do remarketing with Facebook pixel?
DIGIEDIA

27 September 2022
If you're not aware of remarketing, it involves keeping your leads in mind as they navigate the web and presenting them with relevant offers as they navigate. A person is "cookied" or "tagged" whenever they visit your website. To remarket to these users, code is added to the page they visit, which causes your advertisements to follow that cookies person throughout the web, whether on social media or other websites. The new dress you were just looking at on Myntra, or the book you searched on Amazon may suddenly appear on the sidebars or top banners of other sites. This is not a coincidence or "fate," but rather remarketing. There is a wide variety of remarketing strategies. Google Ads (formerly Google AdWords) is one such platform that enables retargeting for marketers via the use of rule-based remarketing lists. You may choose to advertise to everyone who visits your site, or you can narrow your focus to those who have visited a certain page or taken a specific action. This will cause your adverts to be shown to the same users throughout the Google Display Network. One such way is remarketing with Facebook pixel.
The Facebook Pixel or Meta Pixel is a remarketing tool used by websites. You will not notice any changes to your site as a result of installing the remarketing pixel. It just implants a cookie in your visitor's browsers. Facebook may then remarket to those who visited your site from inside Facebook.
Remarketing with Facebook Pixel
While Google Advertisements remarketing shows your advertising throughout the Display Network, remarketing with Facebook Pixels only shows your ads on Facebook. Moreover, "Custom Audiences" is Facebook's preferred term for retargeting. In the same way, a user visits your site or engages with your brand, gets tagged with a code you install to monitor them, and then sees an ad for your product or service while reading through their Facebook page.
However, Facebook remarketing comes in a few different varieties, such as customer lists, website traffic, and app activity.
Customer List
Serving targeted advertisements to a database of contacts is one of Facebook's most effective features. The addition of client lists makes Facebook advertisements more akin to email marketing in that it enables the targeted delivery of tailored messages to a narrow audience. You may upload a list of contacts from your CRM or wherever your customer data is housed, which can include email addresses, phone numbers, or even Facebook user IDs, and then target individuals with advertisements that are relevant to where they are in your sales funnel.
Website Traffic
Most people are aware with this kind of remarketing, in which adverts are shown to visitors who have visited your site within a certain time range. After integrating the Facebook pixel throughout your whole site, you will be able to target audiences based on their behavior on individual pages. If for whatever reason, you're trying to sell a night suit to individuals who are only interested in shoes, you may narrow your Facebook ad audience down to those who have visited sites including the term "night suit" in the URL.
App Activity
Finally, you may customize your ads depending on in-app behavior. This is a great choice if you already have a popular app, and there are several methods to target the appropriate individuals with the correct adverts based on their use patterns. For instance, if a user abandons a basket in your app, you may send them an offer for the same item at a discounted price. Users who have recently engaged with your app may be contacted, as can those who have made a purchase (for upselling purposes) or progressed to a specific level in a game.
Importance of remarketing with Facebook pixels
Using custom audiences and retargeting on Facebook, you can convert your lowest-hanging prospects. It is foolish not to avail such an opportunity. The best way to expand your company is by starting with people you already know on Facebook, where the number of monthly active users ranges to billions, globally, and 22 billion advertisements are clicked on every year. In terms of marketing, in contrast to someone who encounters your brand for the first time on Facebook, someone who has previously interacted with your site purchased your e-book, or used your app is far more likely to interact with your ad and make a purchase from your company. Advertising that uses Facebook's remarketing feature gets three times as much click-through activity as standard Facebook ads.
How to do remarketing with Facebook Pixel?
Here is a set of instructions that you can follow step by step to install Facebook's remarketing pixel in WordPress.
To use the Meta Business Suite, you must first access Facebook. To access the Events Manager, choose All Tools » Events Manager.
After that, go to the left-hand menu and locate the '+ Connect to Data Sources button. Once there, pick the 'Web' option from the drop-down menu that appears.
Following that, you'll need to click the "Connect" button.
On the next page that pops up, you will be asked to give your pixel a name. This name might be the name of your company or one of your products.
The next step is to proceed by clicking the button labeled "Create Pixel."
The next step is to go to the 'Check' button and input the URL of your website. This will tell you whether or not your website can be integrated with one of the supported partners like WordPress or Shopify.
If the integration of your website is possible, a tick will appear in green on the screen, and you will be able to proceed by clicking the "Next" button.
Your next step is to decide how to link Facebook to your website so that it can get activity updates.
For the sake of this guide, we will go with the "Meta Pixel only" option. Setting up the Conversion API in addition to your pixel is something that can be done at any time in the future.
To proceed, please click the "Next" button. At this point, you need to decide how you want to incorporate the pixel code into your website.
You may send the pixel code to whoever administers the technical aspects of your website if you don't handle those responsibilities yourself. In such case, if you want to install it yourself, click the option that says "Install code manually."
Facebook will now provide the pixel code for you to copy and paste into your WordPress website so that it can work properly. After you have clicked the button labeled "Copy Code" to copy the pixel code, we will walk you through the process of installing it in WordPress.
Installing Facebook Pixel in WordPress
It is necessary for you to include the code for the Facebook pixel right before the closing /head> tag in your WordPress theme. Using the WPCode plugin is the most straightforward approach to achieving this goal.
The WordPress plugin known as WPCode is the most effective code snippets tool available. It makes it simple to integrate code into the headers and footers of your WordPress website without requiring you to alter the files that make up the theme. Installing and activating the free WPCode plugin is a need before you can get started.
You will need to go to the Code Snippets » Header & Footer page when you have finished installing and activating the plugin. After that, all you need to do is copy and paste the code for the Facebook pixel into the box labeled Header.
When you are done, you must ensure that you hit the button labeled "Save Changes." You have completed the installation of Facebook Pixel on your WordPress website successfully. Congratulations!