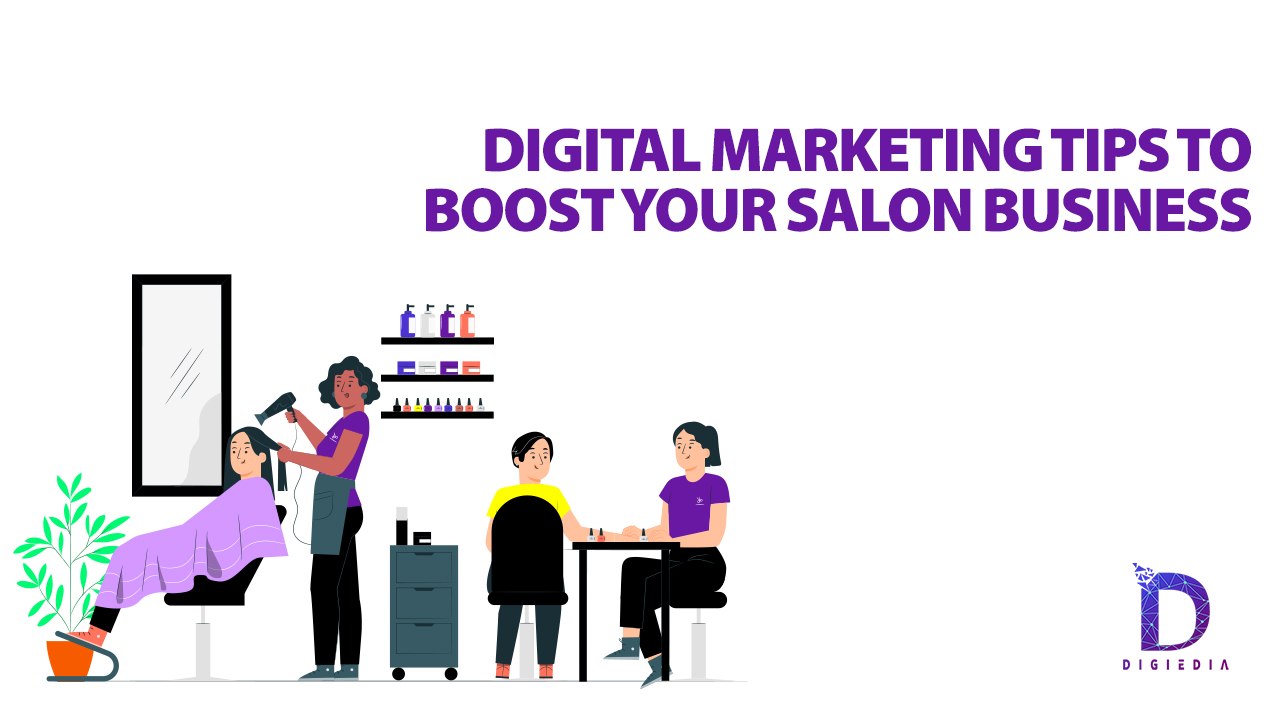 Digital marketing tips to boost your salon business: some top digital marketing tips for salon business
Salon business is a gender-neutral business. Each person visits a salon once a month. According to research, the statistics show that around 55-57% of small/ local business owners increased their sales once they promoted their brand online. People love to book online rather than calling. Taking appointments via online booking is a very important part of boosting sales and having more clients come to your salon. In this digital era, your brand can be successful if you create a proper strategy to promote it. Let's briefly discuss the digital marketing tips for salon businesses.
Create a website, choose a booking software-
The first and foremost step to an online business is to create a beautiful SEO-friendly website. this is a major digital marketing tip for salon businesses. with a simple search on Google, you will see there are hundreds of websites. We visit the website which is convenient and has attractive graphics.
Therefore, creating a website is very important. After that, put your business pieces of information, all the services you provide, and the price ranges. This information will help you maximize your productivity and increase your sales.
Apart from that, create a chatbot on your website. Chatbot usually handles multiple customers at a time.it makes brand/business available 24×7.
You can create an app for your salon store. by that, you can effectively promote your business with built-in marketing tools. visual analytics provides an optical understanding and relies upon customer data. Stay up to date with the trends.
In case, if your business does not have a website, you can create a social media page(Facebook/Instagram page). make these platforms your key communication tools. With these digital marketing tips for salon businesses, you can also grow your local business.
Push your customers to book online-
Another digital marketing tip for salon businesses is to push your customers to book online. The best point for an online booking is that you can see how many seats are available. With that information, people will book as soon as possible. They will feel the need to get an appointment immediately. With social media, you can also take action by announcing an online booking service.
Engage with your customers on social media by creating a poll about which services in your salon are the best, and discuss upcoming services. do not post regularly; post often and post some high-quality SEO-friendly content. loyal and genuine customers will come back to your online platform to see your most recent work.
Salon marketing is a very competitive industry. You have to make sure your online presence is to the point and genuine.
Make an Online business card-
Grow your online salon business like a pro. This is one of the interesting digital marketing tips for salon businesses, is to promote your business card. We all know that social media is doing a significant part of the online promotional job, but offering a business card to customers coming to your salon can be a piece of cake. You can create a beautiful business card with some graphic designing tools like CANVA.
Make sure your business card contains essential pieces of information like phone number, email id, address, online booking website or URL, etc.
Reward your loyal customers
Before starting to promote and book your appointments online, your customers have to understand the advantages of doing it. Like us, we always get aware that how much it is cheaper or faster? Yet this is another essential part of digital marketing tips for salon businesses is to give your valuable customers some discount codes/offers. once they register to your network, give them a welcome reward. give them a freebie. In this way, they will be most likely to book all their appointments online and probably they will tell and recommend them to their friends about your online services.
Promote your business via website/Social media page
Do you have good customers who visit frequently? Well, this is high time to grow your business. the next digital marketing tip for salon businesses is to sell more services during each appointment. Create some posters and ads about your services, then add this to your website or your social media page. For a salon, you can offer an attractive pricing range, on a festive season, you can offer some pocket-friendly packages for facial range, spa, and other services. As a client, whenever they visit your website, they will look for a good service to get recommendations for services that are right for them. they expect it.
Promote your brand via Facebook, WhatsApp, and Instagram. create an ad with a wide range of targeting audiences who never heard about your business. Create some ads and pair those ads on the landing page or discount and you will improve your chance of bringing in even more customers. from sharing your signature services to hairstyles, spa, and nail arts and to creating engaging contests, you can spread your brand awareness and loyalty. you just need to find a perfect medium that works for your salon. Apart from taking bookings from websites, calls, and apps, you can also take salon bookings via these platforms.
Before checking any online services, we first check their reviews. A successful company builds over time and it requires a great intention. Online reputation is very important. Finding a new service is hard but positive and genuine reviews can be the deciding factor when looking for an online website. Brand consistency is a part of an online business. Customers click on a business website with a high review star rating. this is another small digital marketing tip to boost your salon business. A recent study found that above 70% of people will click on a business in the local search result if it has positive and genuine reviews. you have to Make sure you have a steady and constant flow of positive reviews, then definitely your company will grow up one day.